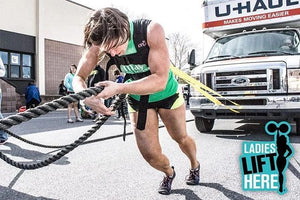 SPEED PULLING HARNESS AND WEIGHTED SLED HARNESS SAFETY
SPEED PULLING HARNESS AND WEIGHTED SLED HARNESS SAFETY
All weighted pull harnesses are subject to wear, damage, and fatigue over time, even after careful and proper use. Failed equipment should be disposed of in a way that avoids accidental use or sent back to the manufacturer.
The harness is nylon and can be inspected first by going through the webbing 6" to 8" at a time. Bend each segment into an inverted "U" shape and check for any signs of rips, fraying, fatigue (or thinning), abrasions, cuts, broken fibers, or chemical or corrosive damage. Fading of webbing color can indicate UV wear and should also be noted. Follow manufacturer's guidelines for replacement of any damaged portion.
As with any hardware that endures stress under heavy loads in the course of its use, D-rings should be inspected carefully for any bending, distortion, rust, corrosion, cracks, nicks, burns, deep scratches or other signs of fatigue. The general rule for rust damage is that no more than a 15% should be affected. As a quick test, if one can rub the rust between thumb and forefinger, the ring has failed inspection. Also check D-rings for any sharp edges that could damage webbing or injure workers. D-rings should move freely and pivot without creating tension.
Buckles should be check for any distortions or sharp edges. Slots through which the webbing passes should be straight and free of sharp edges. Any portion of the webbing that contacts the buckle should be checked for additional signs of fatigue, as these are more likely to occur at such friction points.
The best way to ensure the longevity and performance of any weight loaded sled harness or speed pull harness is by consistently inspecting and properly storing. Trainers, Gym owners, and home owners should take the time to educate themselves and other on proper harness inspection and should reinforce frequent. CFF FIT is continuously trying to manufacture the best, highest quality equipment and your safety always comes first.
---