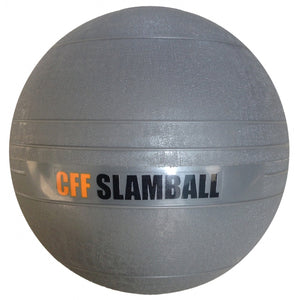 MAINTAINING A SLAM BALL OR RUBBER MEDICINE BALL
The Slam Ball is probably one of the most abused pieces of equipment in a Cross fit gym, personal training studio, or sports performance training center. To ensure it lasts, it is important they are taken care of and routinely maintained, just like we would a barbell.
A Slam Ball's shell is a synthetic mixture of rubber so it will dry out over time just like any other piece of rubber. Taking the three simple steps below can make a significant difference in how long your equipment will last, especially around the valve.
There are two ways you can maintain your Slam Ball, rubber medicine ball or rubber product:
The first is, you can submerse the item in a 3:1 solution of 91% rubbing alcohol and wintergreen oil twice a year. I do not really recommend this type of maintenance with a slam ball. The liquid could penetrate the shell and mix with the sand and metal inside the ball causing it to be lumpy. This procedure is better suited for items like rubber bumper plates
The second is really quite simple and and can be applied in three easy steps, once a month.
Clean the shell of your Slam Ball well with a mixture of alcohol and wintergreen oil. You can buy this in a premixed bottle at most any CVS, drugstore, or supermarket.
Apply Vaseline liberally to the entire shell of the Slam Ball, rubbing it in well, especially the valve area.
Take a dry rag and wipe off the excess.
Three easy steps that can keep your Slam Ball looking and working like new. 
---
4 comments