STAR TRAC 10 SERIES FREERUNNER TREADMILL WITH LCD
SKU:9-9271-10TRX-110-LCDQto
Save over thousands off a pre-owned Star Trac Series 10 Treadmill. Was over $13k new, Pre-owned, cleaned, and serviced treadmills in excellent condition, only $2499 plus shipping. 
Shipping is not free, please select pickup up or ship in the options.
The FreeRunner™ treadmill is a revolutionary new indoor running experience. The heart of this new experience is the patent-pending HexDeck System, featuring an aluminum deck supported by a proprietary, hexagonal polymer suspension system. The result is unprecedented cushion and responsiveness, for a feel that test users describe as "buttery," "easy on the joints" and "like running on a track."
The 10TRx FreeRunner creates a revolutionary feel for runners and walkers. HexDeck Technology creates an unprecedented 
cushion and responsiveness – lightweight walkers, heavyweight runners and everyone in between will experience initial 
cushion/flex at foot strike, along with an immediate response, returning support and energy for the push off.
Features:
LCD Console with Quick Keys (Not all photos above may show this option)
Revolutionary new patented HexDeck technology features an aluminum running deck, supported by a proprietary, hexagonal polymer suspension system that creates a treadmill with unprecedented cushion and responsiveness
Easily accessible Hot Bar® is located closer to the user with one-finger speed and elevation controls, integrated stop button and contact heart rate grips
20% max incline | 15 mph max speed
21.5″ (54.6 cm) wide belt
11" (28 cm) step-up height
User weight capacity of 500 lbs (227 kg)
Length: 81.5 in (207 cm)
Width: 34.8 in (88 cm)
Height: 60 in (152 cm)
User Weight Capacity: 500 lbs (227 kg)
Product Weight: 447 lbs (203 kg)
SMART. AFFORDABLE. FLEXIBLE.
When we set out to design our new console, our philosophy was simple: provide a flexible platform that connects expert partners to provide solutions for every customer for today and into the future. Introducing the new OpenHub™ family of Cardio Consoles. OpenHub™ is a smart, affordable, configurable solution available on Star Trac® and StairMaster® cardio equipment. The best part is, you add (and pay for) only what you want, when you want. The future of club connectivity is here. The future is OpenHub™.
FEATURES
ENTERTAINMENT - IPTV compatible, or browse the web or stream content from a personal device.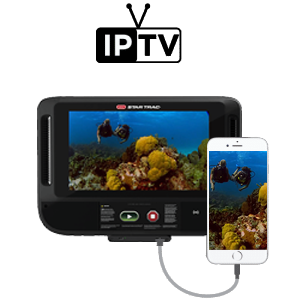 ASSET MANAGEMENT - Wirelessly monitor all your equipment in your facility.
FITNESS TRACKING / COMPETITION - Use data capture & leaderboards to track efforts in real time then save & share your results with the apps you use the most.
OPTIONAL PERSONAL VIEWING SYSTEM (PVS)
Add individual entertainment to each cardio piece

15.6″ HD screen
HDMI streaming capable (with HDMI cable, not included)
Integrated design matches the console for a clean, cohesive look
Star Trac 10 TRX Series FreeRunner Treadmill with LCD shown with Optional PVS
Historically performance has been a coveted key indicator for all athletic products and equipment. From the Nike 4% to the cushion of a track's surface, performance has led the charge. And what we're talking about when we say 'performance' is doing more… being just a little bit better than the past, doing a little bit more than you thought you could. This idea has been around for a very long time, but today the concept of 'Performance' has gone truly mainstream. More people than ever before are awakening to the fact that to get more they need to do more, so they're looking to push themselves more than they have in the past, and they want tools to help them do that.
When we started development of the new Star Trac FreeRunner, the goal was to create a treadmill that makes running more comfortable and more forgiving. Running is inherently a high-impact activity, which means many people who would like to run either can't run at all or not as much as they would like. We believed we could create a platform that would reduce the impact of running to such a degree that anyone would be able to do more than they can on a "normal" treadmill. We succeeded.
The result is an entirely new, patent-pending deck system we call HexDeck. The HexDeck replaces the standard treadmill MDF board deck with an aluminum deck, supported by a hexagonal polymer suspension system. The aluminum deck is MUCH more flexible than the MDF, which allows us to cushion the impact of each step to a much greater degree than was previously possible. But cushion is only half of the equation – equally important is response. A lot of cushion with no response is a pillow. A lot of cushion with a lot of response is a trampoline. Neither of those is a desirable running experience. By combining the aluminum deck with the hex suspension system, the HexDeck system gives just the right amount of cushion combined with just the right amount of response. The result is something that users describe as similar to running on a track or firm turf.
How We Help You Perform
The HexDeck system reduces impact significantly, but the heart of the amazing feel is that it combines that cushion with a level of response that is unique among treadmill deck systems. It actually returns a bit of energy to the user, enough to be useful, but no trampoline effect.
Cushion
Quantitative clinical research shows that the FreeRunner significantly reduces impact versus a standard deck treadmill, which creates less muscle fatigue during exercise and reduced soreness afterward. Qualitatively, it results in experiences like these collected during development and testing:
"I was a competitive runner in college, but my knees are to the point now that I no longer run because it is too painful. I tried the FreeRunner and couldn't believe it, it felt so good I ran a 5k, and the next day I didn't have any pain. Now I run a 5k on the FreeRunner at least once a week as part of my fitness routine." – Steve Neill (Mechanical Engineer at Core Health and Fitness)
"As I tire while running I tend to sit back in my hips and heels and often times that creates issues with soreness and fatigue in my run and in days to follow, on the FreeRunner I didn't experience this fatigue or soreness during my run or in the days to follow, which has significantly improved my training and recovery!"- Sonja Friend – Uhl  (USATF Elite Runner & Coach)
Response
Using the HexDeck system we provide the optimal combination of cushion + response. By creating a "landing area" towards the front of the deck it effectively absorbs the runner's impact, and then as the foot travels to the back of the treadmill, additional support stiffens the deck in a controlled manner, for a firm push off that even provides a small bit of energy return. This is not a bounce effect, it's a firmness with a little bit of spring, and results in comments like these from actual testers:
"Feels just like running on a track."
"Running on (FreeRunner) felt like less work than running on the (standard deck) treadmill."
Quantitatively, we found users could hold speeds of 0.2mph/0.3kph faster at the same heart rate on FreeRunner v our standard treadmill.
Bottom Line
In an independent study by California State University, Fullerton, more than 3 out of 4 study participants preferred the FreeRunner to a traditional treadmill and gave FreeRunner nearly a 4.5 out of 5 ratings for overall satisfaction. These preference and satisfaction scores are incredible and held true for users of varying fitness levels, and even walkers.
What does it all mean? Just about anyone who gets on the FreeRunner is going to experience improved performance, they are going to be able to Do More, and they are just going to LOVE it. We're changing the definition of what performance means on a treadmill now we want to hear your feedback. Let us know how your next run goes.