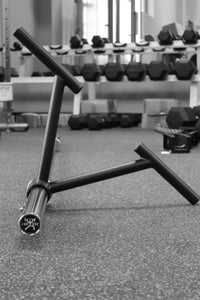 Mastering Your Fitness Journey with CFF Fit Post Landmine and Handles
Mastering Your Fitness Journey with CFF Fit Post Landmine and Handles
Are you looking for a versatile and effective piece of fitness equipment to elevate your training routine? Look no further than CFF Fit's post landmine and handles. This innovative accessory can add a whole new dimension to your workouts, helping you target various muscle groups and improve your strength and stability. In this article, we'll explore the benefits of training with a CFF Fit post landmine and handles and provide you with valuable tips to make the most of this equipment.
1. **Understanding the CFF Fit Post Landmine and Handles:**
   - The CFF Fit post landmine and handles are designed to fit into standard Olympic weight plates, making them a versatile addition to your home or gym setup.
   - These handles allow you to perform a wide range of exercises, including landmine presses, rows, squats, and more, offering a full-body workout experience.
2. **Benefits of Training with CFF Fit Post Landmine and Handles:**
   - Versatility: With this equipment, you can perform a variety of exercises that target different muscle groups, providing a well-rounded fitness routine.
   - Joint-Friendly: Many landmine exercises are joint-friendly and can reduce the risk of injury compared to traditional free weights.
   - Space-Efficient: CFF Fit's post landmine and handles are compact and can be easily stored, making them ideal for home gyms with limited space.
   - Suitable for All Fitness Levels: Whether you're a beginner or an experienced lifter, these handles can be adjusted to accommodate your fitness level.
3. **Effective Landmine Exercises:**
   - Landmine Press: This exercise targets the shoulders, chest, and triceps. It's an excellent way to build upper body strength.
   - Landmine Rows: Strengthen your back and biceps with this variation. It's a great exercise for improving posture.
   - Landmine Squats: Build powerful legs and glutes while also enhancing your core stability.
   - Landmine Twists: Work on your obliques and core strength with this rotational exercise.
4. **Tips for Maximizing Your CFF Fit Post Landmine and Handles Workouts:**
   - Always warm up before starting your workout to prevent injury.
   - Start with lighter weights and proper form to avoid overloading your muscles.
   - Gradually increase the weight as your strength improves.
   - Incorporate landmine exercises into your existing routine for variety.
   - Listen to your body, and if you experience pain or discomfort, consult a fitness professional.
5. **Conclusion:**
   - CFF Fit's post landmine and handles are a game-changer in the world of fitness equipment. Their versatility, joint-friendly nature, and space-efficient design make them a valuable addition to any workout regimen.
   - By incorporating effective landmine exercises into your routine and following our tips, you can unlock a new level of fitness and achieve your goals with CFF Fit's post landmine and handles.
---